I attended Mount Vernon High School in Mount Vernon, Ohio.  The student graduation speakers were selected by a panel of judges after try-outs (any student could participate).  My recollection was there were approximately 20 students who made an audition from my Senior Class of 316 students.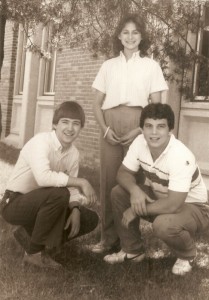 In the end, there were three students selected to deliver speeches at graduation:
Edgar LaBenne, Michele Anderson and John Nussbaum.
Here is my speech I wrote and delivered at my high school graduation on the evening of 3 June 1983:  
Graduates, Family, Friends and Faculty.  Tonight marks the end of a phase of time in our lives that will be in our memory forever.  But tonight is not just an end, but a beginning.  Soon we are to be in sole charge of our destiny.  These really awesome responsibilities come early in our life and our preparation is rushed.
In an age of high technology, people can now expect ongoing changes in details and structure of information.  The mark of an educated person will no longer be how much he knows or the diplomas on his wall, rather it will be his ability to continue to learn the new material quickly and thoroughly.
Our education at Mount Vernon will serve as a good foundation for our life's ambitions.  But we must not stop here.  We must, build upon our foundation and  reinforce our skills and talents.
On our trail in life we need to set goals, have enthusiasm, and confidence.
Goals are essential in life yet many fail to see their importance.  Establishing  goals can be easy. it involves analyzing three things:  objectives, alternatives and results.  Goals must be definite and specific, never vague.  Know what you want and keep it constantly in your mind.  It is extremely important for goals to be realistic too.  Goals can be achieved only if they lie within your potential. Know your capabilities but don't underestimate them.  You also need to be able to overcome setbacks which can develop at anytime.  Adapt and learn from your mistakes.  When you're working goals you need persistence, hard work and enthusiasm.
YES ENTHUSIASM!  Many people feel they can't produce enthusiasm.  If so, they need to use the "as if" principle. This is done by acting as if you are bursting with enthusiasm.  After a period of time this attitude will become imbedded in your mind and it will no longer be necessary to act.  Enthusiasm can make the difference between success and failure.  Charles Schwab said, "One can succeed at almost anything for which he has unlimited enthusiasm."  Enthusiasm is contagious like the measles and mumps- but it's good for you.  Enthusiasm can produce faith and faith stimulates action!  The lack of self-confidence seems to be one of the greatest problems affecting people today.  Everywhere we go we encounter people who are afraid, who suffer from insecurity and are unsure of their own powers.
If you want to obtain the feeling of confidence the thoughts that are in your mind are important.  Think defeat and you are bound to feel defeated.  But if your thoughts are positive and consistent, your ability to overcome difficulties are within you.
Ralph Emerson once stated "They conquer who believe they can.", and he added "Do the thing you fear and the death of fear is certain."
The recipe for a successful life lies in establishing realistic goals and maintaining a constant flow of enthusiasm, but the most important ingredient of all is to believe in yourself and your God.
Many of us have been admitted into college or planning to be employed, these opportunities are not given to us only because of what we have done, but for what we are expected to do!
 [PLAYLIST not found]
END