MY DAD WAS A 5 STAR GENERAL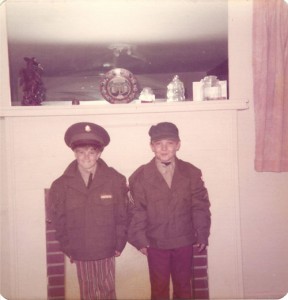 Growing up, my best friend was Bill Harnesberger.  He lived next door and we did everything together.  One day I found my Dad's Army Air Corps uniforms from World War II in the attic.  Bill's Dad had served in the Air Force as well in the 1950's.  Notice we were even wearing the neck ties.  This photo was taken in my house, Bill to the left and me on the right.
There was no PSP, 360, iPad, or computers; we played outside for hours everyday and there was no cell phone to text to come home.  Dinner time was 6PM and you better be inside the house by 6PM.
It was common in my neighborship to play "war" games in the woods and fields near our houses.  My Dad from time to time would tell me growing up he was a 5 star General!  Wow. My Dad was a 5 star general!  Well shortly after I found my Dad's military uniforms, I was out and about wearing his old uniform. I was with a bunch of other kids and someone called my Dad a liar!  They said my Dad was NOT a 5 star General and he and I were both liars.  Now family honor was at stake and I ended up in a fist fight.  A little scraped up, but my pride intact.  When my Dad got home from work, I was questioned on my daily activities and what in the world happened?  I explained I got in a fight because one of the kids did not believe me when I told them you were a 5 star General.  My Dad's face dropped, and I knew something was not right.  It was then, he had to tell me that he was not a 5 star General.  Opps.
Sometimes parents may tell kids things in good nature fun.  I did with my kids too!  When American Idol was only a few years old, we watched it as a family, cheering for our respective contestant.  I often would tell my kids, Joshua and Mary, I was going to be the next American Idol after I retired from the Air Force.  They proudly would tell their friends and anyone coming over to the house.  One evening in Belgium, Capt Ken Main was visiting from Brunssum, Netherlands, another NATO HQ, and we had him to the house for dinner and watch American Idol.  Sure enough, Joshua and Mary starting telling Ken that I was going to be the next American Idol after I retired from the Air Force.  Now Ken knew the competition age limit was 29 years old and I was well past that age.  Ken was about to tell my kids, and I quickly kicked him under the table and gave him "the look".  My secret was safe for another year.
Well maybe in it just wishful thinking, to be a General or the next American Idol.  I need to think of another storyline to come up with for youngest two kids, Kevin, 8 and Gigi, 6, before they are too old too know Dad is pulling a fast one … hope Kevin does not get into a fist fight to save my honor.  LOL
AMERICAN FIVE STAR GENERALS
General is the the top rank in most any army of the world and almost always represents a high-ranking official who has dedicated his career to the military. The United States military maintains several ranks within the general rank and this position can go as high as a "5 star general" when the situation warrants it.
Brigadier General (BG) – 1 star
Major General (MG) – 2 stars
Lieutenant General (LTG) – 3 stars
General (GEN) – 4 stars
ARMY – General of the Army – 5 stars (Reserved for wartime only)
NAVY – Fleet Admiral – 5 stars
AIR FORCE – General of the Air Force – 5 stars
MARINES – Have no designation as they fall under the Navy.
Note that the Army rank of 5 Star General is only specifically handed out at wartime during the most extreme of circumstances as it was to the men listed below during both World War 2 and the Korean War (their awarding date follows their name). As such, you'd be hard pressed to find a living, breathing 5 star general serving in today's military.
• George C. Marshall (16 Dec 1944)
• Douglas MacArthur (18 Dec 1944)
• Dwight D. Eisenhower (20 Dec 1944)
• Henry H. Arnold (21 Dec 1944)
• Omar Bradley (20 Sep 1950)
Additionally, the US Navy maintains their own "Five Star" status in the form of the rank "Fleet Admiral". This rank was awarded to the men as follows (their awarding date follows their name):
• William D. Leahy (15 Dec 1944)
• Ernest J. King (17 Dec 1944)
• Chester W. Nimitz (19 Dec 1944)
• William F. Halsey, Jr. (11 Dec 1945)
Only one member of the United States Air Force (then as the "United States Army Air Force") has ever held the rank of 5-star general as "General of the Air Force". Henry H. Arnold also holds the distinction as the only person to ever achieve the 5-star rank in two branches of the US Armed Forces:
• Henry H. Arnold (21 Dec 1944)
Of note is the grade of "General of the Armies of the United States", a position held by only two persons in American history – George Washington and John J. Pershing. Of the two, only General Pershing held the title while still alive, Washington being posthumously bestowed the honor by President Gerald Ford in 1976. Pershing earned the title in 1919 after his service in World War 1 and held it until his death on July 15th, 1948.
It also bears mention that, on March 24th, 1903, Admiral George Dewey (1837-1917) was honored with the special grade of "Admiral of the Navy" (retroactive to March 2nd, 1899) which was intended to be senior to the four-star admiral rank. Dewey remains the only US naval service member ever awarded this title. In 1944 (during World War 2), Admiral of the Navy was formally recognized as senior to the 5 star rank of Fleet Admiral.
sexe et depression hersports dianabol for sale kamagra oral jelly