I was the Scoutmaster of Troop 97, Blytheville Air Force Base, Arkansas 1988 to 1991.  I started with 5 boys and we grew to over 40 scouts.  Every month for over 3 years we camped at least 1 time, only missing the weekend that Saddam invaded Kuwait.  We went to seven states to camp, often in a big Blue Air Force bus and ton and half truck for the gear.
We traveled 1 to 2 hours and up to 7 hours when we went to the Space Camp in Huntsville, Alabama.   We would stop from time to time for bathroom break and of course for snacks.  I found out unregulated, you would have boys spending $5 to $10 on junk food.  It was crazy.  There were always be 3 or more boys that had NO money.  Something that I personally felt I needed to privately address.
It did not take long and I implemented the $1 Rule.  Any boy could get a drink, chips and/or candy, whatever you want for $1.  Only $1.  To ensure 40 boys would follow instructions, the Senior Patrol Leader (SPL) or his assistant would be at the cash register directing the affair.  If a regular customer came, the SPL would invite them to jump the line.
I  would make sure every boy had $1, even if it meant coming from our own pocket (other adult leaders were generous as well).   The $1 bill would be discreetly given.  It was my form of wealth redistribution.  LOL.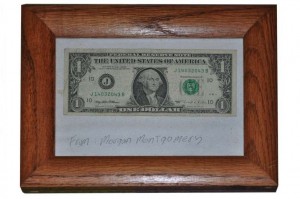 When my time had come to leave Blytheville, I would given many gifts, but the one that I remember and kept until this day is the $1 bill framed by Morgan Montgomery.  "Mr. LaBenne, I know I owe you more then $1, but I want you to have this one ($1) for always giving me so many $1."
We both had a good laugh.
clenbuterol kaufen enantato de trembolona trenbolone for sale comprar viagra kamagra zel buy clenbuterol online