Coshocton, Ohio – Jun 1983.  Throughout the night, I have been the guide for my close friend Greg.  We were at the Muskingum Valley Scout Reservation, deep in an obscure area of our council's Boy Scout camp near Coshocton, Ohio.  We loved this camp and most of us have spent over a hundred days and nights here.  Greg has just finished his Vigil to become designed "Vigil Honor" in the Order of the Arrow.  It is early dawn at the final ceremony.  In the dew covered meadow under a 50 foot cliff, an Indian Chief emerges and meets Greg.  Circled waiting for Greg are about 12 Vigil Honor members to welcome him to a select few, honored for their unselfish service to others.  At the end of the ceremony, the Native Indian (Delaware) name selected for Greg is revealed to him for the first time.  From this time forward you should be known as "Mamchachwelendan", meaning "He Who Endures Pain".  This was the 25th of June, 1983.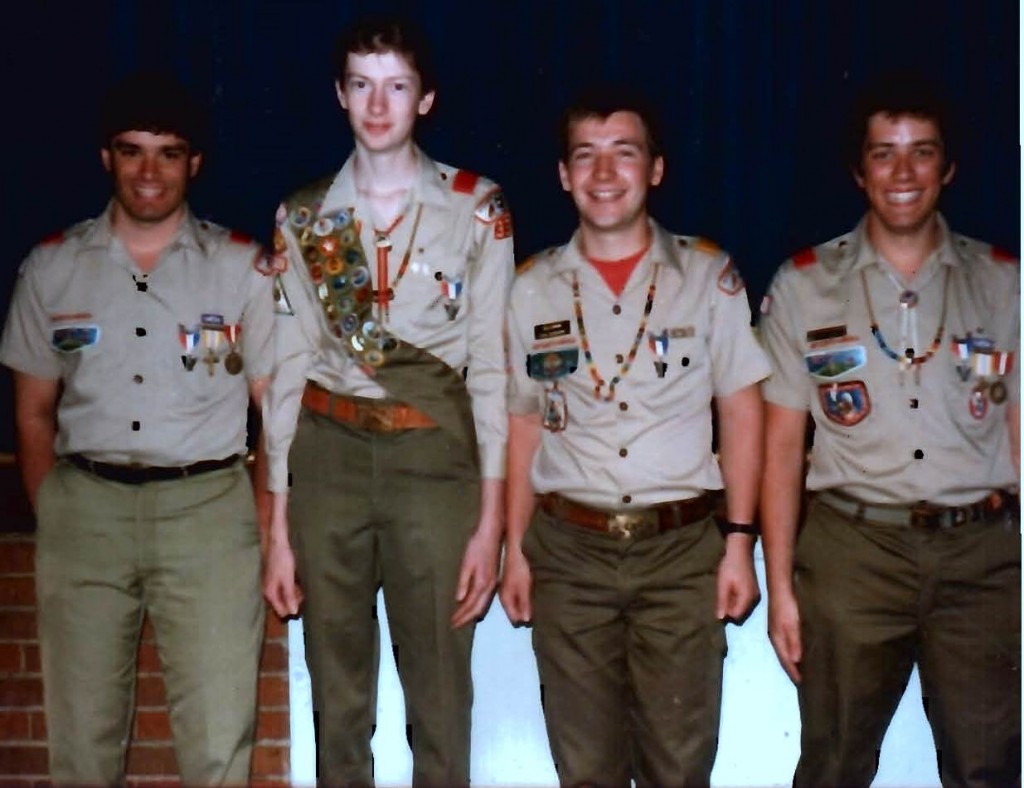 Tom Durbin, Greg Miller, Ed LaBenne, and Pat Durbin the night Greg's was presented his Eagle Scout on 26 Apr 1985.
Columbus, Ohio – 1982.  Just the year before, I was in the waiting room of Riverside Hospital in Columbus.  Tom Durbin and I were in the waiting room with Greg's Mom and older brother.  Greg was in the recovery room after surgery for cancer and the removal of a large brain tumor.  The first person to go visit him in the recovery room was his Mom.  I was actually surprised, when she came out, she asked Tom and me to go in next.  It was the first time I saw such a thing.  After he recovered, he spent months going through radiation treatments and lost all of his hair.  I remember being at his house and there was long strands of hair in the waste cans his rooms upstairs, 6 to 7 inches long, falling out from the roots.  The cancer finally went into submission.  Every six months Greg would go through tests to see if the cancer returned.  It was always a relief after negative results came back.  Nearly eight years went by and then the cancer came back with a vengeance.
Blytheville, Arkansas – Apr 1991.  It was a Sunday night and my Mom called me:  "They are praying for Greg at Mass.  He is very sick again."  I called Greg, and asked him what is going on.  He confirmed he has cancer again and it did not look good.  I told him I wanted to come home to visit him, but I was scheduled to deploy to Diego Garcia and could not take leave.  Greg joked, that he would wait for me to come home and that he was a hard to kill.  We laugh and prayed on the phone.  I told him to wait for me as I was going to come see him when I returned home.
Diego Garcia, BIOT – 21 Apr- 7 Nov 1991.  During my deployment, I would attend Mass several times a week and on Friday night after Mass, we had a very nice prayer group of about 20 people.  Every Friday I would pray for Greg and I would pray specifically for him to live long enough for me to see him again.  After four months of praying for his life, I prayed for the first time that Greg would die.  For on this Friday night I had a feeling that Greg had suffered so much and his pain so great, that the Lord should take him home.  So out loud in front of the entire group, I prayed for God to take home Greg and end his suffering.
The next morning, I had a phone call.  It was extremely difficult to call in those days and Diego Garcia was so isolated.  To this day, I do not know how I got the call from my family.  It was notification that Greg had just died.  I was devastated and I cried like a baby.  I was full of guilt for just having prayed for him to die only a few hours earlier.  I wanted a few hours so that I could call Greg's Mom.  I would have to use "Cable and Wireless", which we called "Cable and Heartless" as it cost $4 per minute to call the United States.  I finally reached Mrs. Miller and we talked.  I started crying and I told her I am so sorry.  I told her I prayed for Greg to die last night.  She quickly took charge of the conversation and told me:  "It is OK Ed.  Greg was in such great pain.  He was under heavy medication and he was having so much difficulty, I prayed for him to die too. It is OK, you did the right thing." 
I wrote several times to Greg during my deployment.  Mrs. Miller explained to me she asked Greg to write me back many times, but he was unable to write.   She told him she would transcribe the letter for him, he only needed to tell her.  Ironically, without her knowledge, Greg did in fact send me a letter (the letter is attached below).  Greg had typed the letter and mail it to my deployed location 30 days before he died.  I was happy to tell her, that Greg did send me a letter!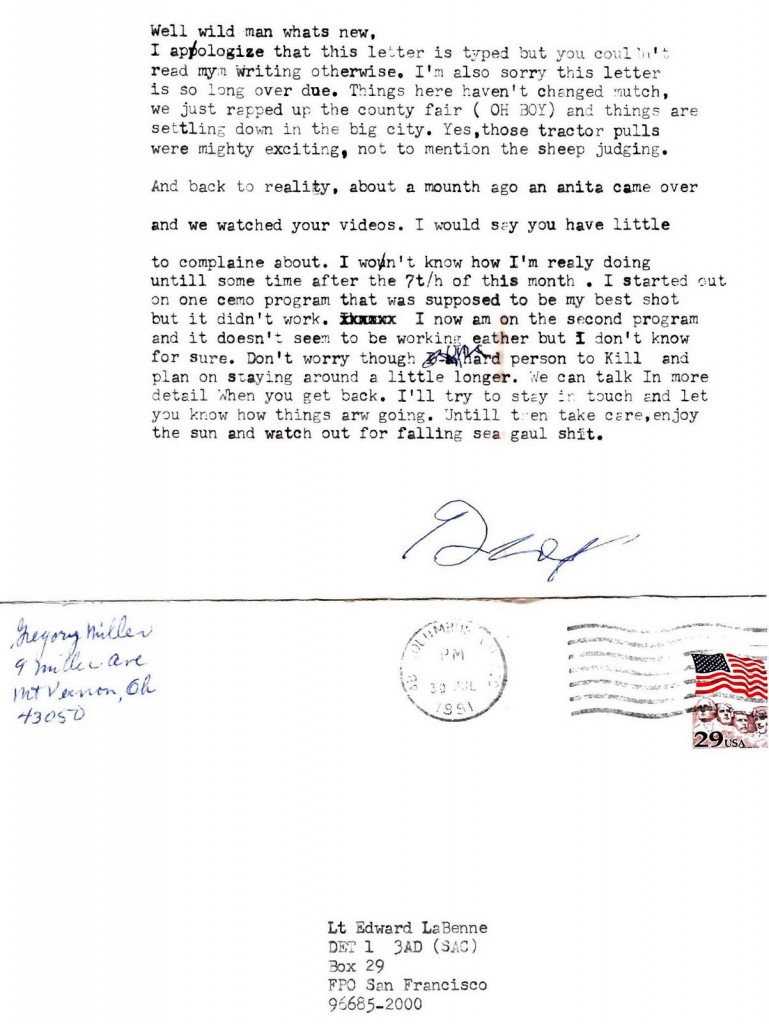 Mount Vernon, Ohio – Dec 1991.   When I finally returned to my home town.  I went to visit Mrs. Miller and talk to her.  Together we went to visit Greg grave site and then went back to her house.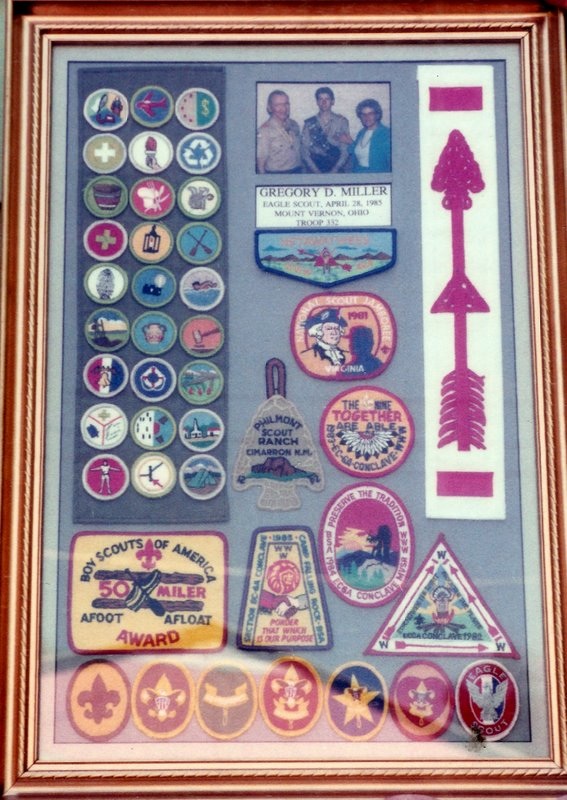 She thanked me for my help with Greg, including to push him to finish his Eagle Scout and being a very good friend to him.  Greg and I had both been in Troop 332 and very involved in our Catholic youth group, both sponsored by St Vincent de Paul Parish in Mount Vernon, Ohio.  See had two boxes of all of Greg's Boy Scout belongings and offered them to me.  She told me, Greg wanted you to have these.  Well, I thought about it and then offered to select a few items that were SPECIAL to Greg and I would frame them.  I gave his Mom the patches and frame to her.
At the time, I was a Scoutmaster for Troop 97, in Blytheville, Arkansas.  When one scout, Richard Nace was presented his Eagle Scout, he also would be given the Eagle Scout medal of his great Uncle.  Any Eagle Scout from the 1920's.  I told Mrs Miller, that we should frame Greg's Eagle and one day maybe it could be passed down within the family to one of his nephews or cousins.  She agreed.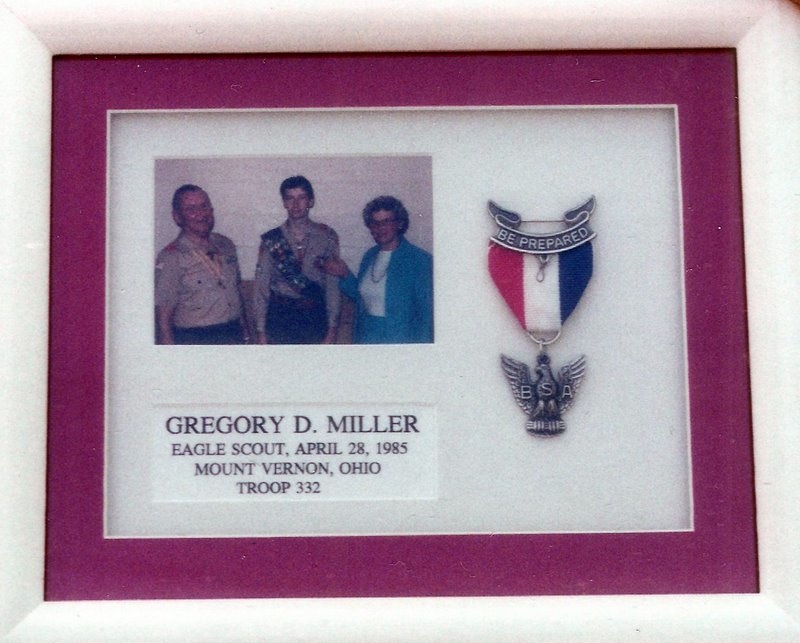 I never remember Greg ever complaining or feeling sorry for himself during all the years I knew him.  Two times he fought cancer, but in the end, he would find eternal peace.  I often think about Greg and I am thankful he was my friend.
Farewell my friend, "He Who Endured Pain".
Gregory Dion Miller
Vigil on 25 June 1983
Indian Name:  Mamchachwelendan
Translation:  He Who Endures Pain
Born 23 Oct 1966
Died 30 Aug 1991
figure fitness competitors buying sustanon 250 levitra rezeptfrei vermodje diamond labs modafinil online pt 141