My greatest positive influence while growing up was my involvement in the Boy Scouts.  I earned the rank of Eagle Scout and it was presented to me in a ceremony in my hometown, Mount Vernon, Ohio, when I was 16 years old.  The first Eagle Scout medal was awarded in 1912 (100 hundred years ago) to ArthurRoseEldred, a 17-year-old member of Troop 1 of Rockville Centre, Long Island, New York.  Over the years, the Eagle Scout rank has been earned by more than 2 million young men.  Of 100 hundred boys who join Scouting, only 3 will became an Eagle Scout.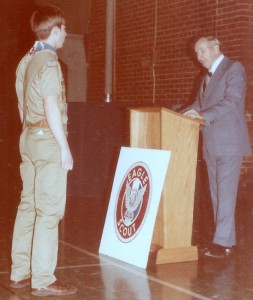 A tradition during the ceremony is to give the newest Eagle Scout a Charge (or Challenge).  I asked Mr. John M. Miller, one of our Troop 332 Committee members to give me my Charge.  Over the years, Mr. Miller actually presented several Charges, each one was personally written for the young man.  Below is my Charge.  The photo was from my ceremony, Mr Miller is at the podium giving me my Charge.
THE CHARGE
TO
Edgar John LaBenne
ON ATTAINING THE RANK OF
EAGLE SCOUT
It's knowledge, skill and dedication that keeps a great ship sailing safely over the trackless oceans to a safe harbour.  The master of that ship likely started as a small boy, sailing his cat boat on a small lake. With increasing age, his growing enthusiasm for the sea lead him to seek further knowledge in navigation, meteorology, seamanship – all the sciences related to his life's ambition.  Then came years of apprenticeship, while he practiced his skills.  Finally, he becomes the master of a great ship in his own right.
Mister LaBenne, you are like a great ship.  There is no other vessel quite like yours.  Soon, you are to be in sole charge of your destiny.  These really awesome responsibilities come early in our life.  Our preparation is rushed opportunity to practice our skills is limited, we're launched into Manhood before some of us are really to hoist sail.
Mister LaBenne, you have blessed with exceptional parents.  They have made great effort to see that you are well prepared for your Voyage.
Mister LaBenne, you are an exceptional person.  You have responded with enthusiasm to your parents wise counsel.  And further, you have shown commendable initiative in seeking and discharging increasing responsibilities.
Now Mister LaBenne, your ship is being provisioned for the Voyage of Life.  Soon you will cast off, glide down the harbour, past the lighthouse and out onto the High Seas, to encounter the vicissitudes of life. Yes,  you will becalmed, drifting aimlessly, filled with doubts.  Other times storms will beset you, some of which you will sail through.  Others you will recognize as being too powerful.  You must prudently change course, lest your ship be wrecked.  And yes, there will be times of fair seas and favorable winds.
Mister LaBenne, you need not sail this sea alone!   Christ will sail with you, if you but invite Him.  And this my charge to you, that never in your life do you think a thought,  say a word or do a deed,  without first reflecting,  "Would He do it this way?"
So, sail on Mister LaBenne.  You have charted a good course.  Hold her steady as she goes.  You'll weather the storm; you'll stay clear of the rocks;  you'll not founder on a reef.  Then, at the end of your Voyage, you'll happily enter the snug harbour God has prepared for those who love him! Bon Voyage!
EAGLE SCOUT COURT OF HONOR
Saturday, the seventh day of March
Nineteen hundred and eighty-one
St Vincent de Paul School Gym
Mt Vernon, Ohio   7:30 PM
Written and delivered by John M. Miller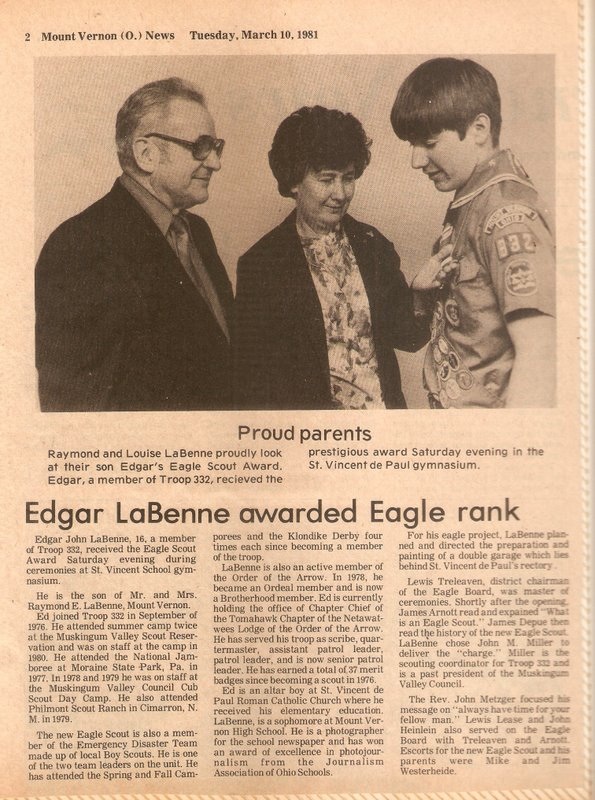 men's health life anabolen kopen afhalen test heptylate
bodybuilding dinner recipes
c19h28o2
testosterone booster for bodybuilding