Non-Band Members have Dotted the "i"
Several prominent individuals and couples have been honored by being allowed to dot the "i". This is considered the greatest honor the band can give to any non-band person, and is an extremely special (and rare) event.  Script Ohio is scribed by 225 band members, but only one person can claim the honor of dotting the "i" in Ohio.  Now, it should be noted, the fourth or fifth year Sousaphone player selected to dot the "i" for that specific game must give up their spot in order for an honorary member to dot the "i".
Honorary "i"-dotters with the OSU Marching Band: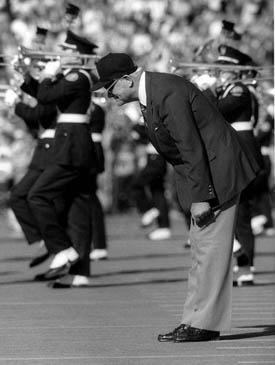 OSU President (1956-72) Novice Fawcett and his wife, 1971 (which game unknown , if you know, email me)
Comedian Bob Hope, 21 Oct 1978, Ohio State vs Iowa, Won 31-7 (Bob grew up in Cleveland, Ohio)
Coach Woody Hayes,  29 Oct 1983, Ohio State vs Wisconsin, Won 45-27
Retired OSU Ticket Director Robert Ries, 14 Sep 1985, Ohio State vs Pittsburg, Won 10-7
World Heavyweight Champion James "Buster" Douglas, 29 Sep 1990, Loss Ohio State vs USC 26-35 (born and raised in Columbus, earlier in 1990, he knocked out Mike Tyson in Toyko, Japan)
OSU President Gordon Gee, his wife Constance, 16 Sep 1995, OSU vs Washington, Won 30-20
NOTE: Dotted the "i" with the OSU Alumni Band during quadruple Script Ohio
All thirteen seniors of the 2002-2003 National Championship Football team
NOTE: Dotted the "i" at the National Championship celebration on 19 Jan 2002 in Ohio Stadium
Golfer Jack Nicklaus, 28 Oct 2006, OSU vs Minnesota, Won 44-0 (widely considered the greatest golfer, Jack was born and raised in Columbus and is an OSU Alumni)
Senator John Glenn and his wife Annie, 5 Sep 2009, OSU vs Navy, Won 31-27 (retired USMC Colonel and astronaut who became the first American to orbit the Earth, born and raised in Ohio)
CEO of The Limited Brands Leslie Wexner, 3 Sep 2011, OSU vs Akron, Won 42-0 (born in Dayton, Ohio and OSU Alumni)
OSU Band Director (1973-2011) , Dr. Jon Woods, 19 Nov 2011, OSU vs Penn State, Loss 14-20
Ann Droste, wife of retired director and former OSUMB member Dr. Paul Droste OSU Retired band director (1970-83), year maybe 1982 (which game unknown, if you know, email me)
NOTE:  Some accounts say OSU Retired band directors (1970-83) Dr. Paul Droste and Jack Evans, their wives 1982 (anyone with definitive information, please share)
Composer for OSU Marching Band Richard "Dick" Heine (date unknown).  Mr. Heine arranged most of the Ohio State school songs (Buckeye Battle Cry, Fight The Team Across The Field, I Want To Go Back To Ohio State, Chimes & Carmen Ohio, Beautiful Ohio, Le Regiment, and others) and those arrangements are still in use by the band today.  Four decades with the OSU Marching Band, he started as a talented clarinetist.  But it is his association with the OSU Marching Band, culminating in the 1978 album "Hats Off To Heine"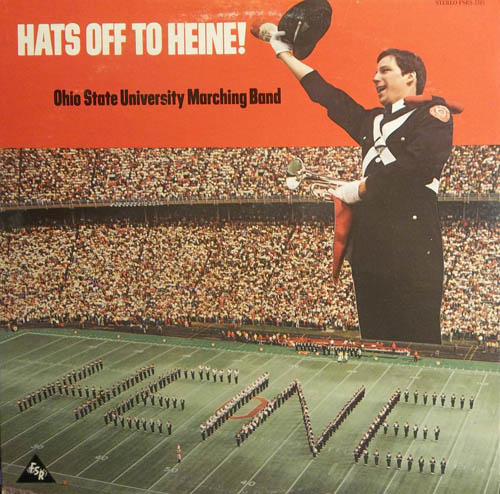 Notable moments of Script Ohio
• 15 Oct 1932: The Michigan band forms the first known script "Ohio" during the Wolverines' game at Ohio Stadium — a stationary "block" formation.
• 24 Oct 1936: Under the direction of Eugene Weigel, the Ohio State University marching band first performs Script Ohio at halftime of the Ohio State versus University of Indiana football game.  John Brungart, a trumpet player, dots the "i."
• 23 Oct 1937: Script features a sousaphone "i" dotter for the first time — a tradition that remains.
• 24 Sep 1966: The first double Script is performed.
• 11 Sep 1971: The first triple Script is performed.
• 10 Sep 1977: The first quadruple Script is performed.
• 8 Sep 1979: Six years after women were admitted to the band, Jan Duga becomes the first woman to dot the "i."
• 29 Oct 1983: Former OSU football coach Woody Hayes dots the "i."
• 20 Sep 1986: Brungart, 70, returns to dot the "i" for Script's 50th anniversary.
• 3 Sep 2011: The band performs its largest Script — a quad Script featuring 768 marchers (three-fourths of whom are band alumni).
• 29 Oct 2011: At halftime of the OSU game against Wisconsin, four members of the 1936 band — plus Weigel's daughter — were honored as part of Script Ohio's 75th Anniversary.